Kids in the Kitchen Link Up Week 37
One of the things I love most about fall is PUMPKIN! I love pumpkin pie, pumpkin bread, pumpkin lattes, pumpkin waffles, anything pumpkin and I want to eat it, make it, drink it! Because of my love for pumpkin, I wanted to share a post on pumpkin. Last week several people were linking up pumpkin recipes, so I wanted to share one of those posts today. Today I would like to share with you a delicious smoothie recipe by Tessa.
Pumpkin-Cranberry Smoothie
Serves: 1-2
A smoothie that wraps some of Fall's favorite flavors into one delicious and healthy cup.
Ingredients for Pumpkin Smoothie

1 cup preferred non-dairy milk

½ cup fresh pumpkin puree

¼ cup frozen fresh cranberries

¼ cup raw, soaked cashews (soaking unnecessary with a high-powered blender)

1 small apple, chunked

½ orange, peeled

2 tablespoons coconut cream (the fat atop a full-fat coconut milk can) or coconut butter

¾ teaspoon cinnamon

5-10 drops stevia liquid, to taste. Honey, maple syrup, or palm sugar could all be used instead. Depending on your fruit sweetness, this is unnecessary.
Place all ingredients in a high powered blender and whir until smooth.

If you do not have a high powered blender, use soaked cashews (raw cashews soaked in fresh water for a few hours minimum and drained), fresh squeezed orange juice instead of an orange, and applesauce instead of an apple.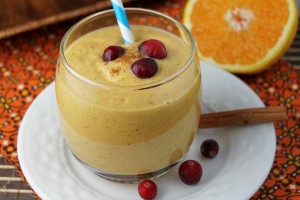 Now, it's your turn! Share with us- Carrie at Young Living Oil Lady and Kelli at AdventurzinChildrearing your family friendly recipe. What have you been making this week? How are you inspiring your kids to get in the kitchen? Use this time to bond with your children. Cooking is so much fun and many subjects can be discussed right in the kitchen while you are cooking!
So whether you eat or drink or whatever you do, do it all for the glory of God.(1 Corinth. 10:13)
Friendly reminders:
Healthy, family friendly recipes please. Kids in the photos are so loved, but not required.

Be sure to add a link in your post back to this post or grab my button-on the side bar or right here below- that way many can join in the fun.

Leave a comment and also visit a few other blogs and send them some comment love too! 
Powered by Linky Tools
Click here to enter your link and view this Linky Tools list…