Need to Lower Your Blood Sugar? Here's an Effective, Natural Way! Grapefruit Essential Oil

Guest Post by Brandy Trammell at Living Water, Health and Wellness
This is kind of a random post in the midst of my absenteeism, but I couldn't help but share this information with you.  I am currently working on other posts detailing why I've had what has seemed like the biggest writers block in history, as well as beginning to work on a series about natural and organic skin care, but what I have to share with you today just couldn't wait!
Most of you know that I have dealt with Type 1 (insulin dependent) diabetes since I was 2 years old (28 years).  I have been blessed with excellent health and good blood sugar control, but the desire to decrease the amount of insulin I use daily is always in the back of my mind.  Well, I am happy to report that I have found a product that appears to deliver just that!
A few months ago I became a wholesale member with Young Living Essential Oils.  Young Living is an amazing company that produces and sells therapeutic grade essential oils.  If you're not familiar with what that means, let me just say that there is a BIG difference between "100% pure" and therapeutic grade EO's.  It's kind of like the difference between "all natural" and organic.  Therapeutic grade oils are much more potent and safe than store bought brands and I have been amazed at all the uses I have found for my oils! (More on this to come!)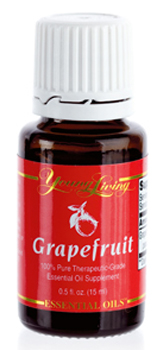 This month I got a Grapefruit essential oil for free when making my monthly order.  Today I put 2 drops in a glass of water twice.  To my surprise, I had a difficult time getting my blood sugar to come UP!  I was preparing to do my Insanity workout and I just couldn't get it to go above 65!  I knew it had to have had something to do with the grapefruit EO.  I have known for some time that grapefruit is great for increasing metabolism, but I had no idea that it was also valued for its blood sugar lowering effects!
Here's a quote from a study posted by my friend, Carrie, who blogs at Young Living Oil Lady. 
"Grapefruit essential oil lowered blood sugar spikes.
If one of the diabetics' blood sugar spiked, they would immediately apply 2 drops Grapefruit oil on or under their  tongue.  They would hold the oil in their mouth for a few minutes and swallow.  They had discovered grapefruit oil lowered the blood sugar within 20 minutes to an hour.
I told a diabetic friend about grapefruit essential oil, and it worked for her.  She used it regularly from then on.
Many of the diabetics in the group were able to decrease their need for insulin entirely over the course of six months or so to the point where they could control their diabetes with diet.  Others were able to lower the amounts they needed."
Isn't that amazing?? I love how God has created so many things that are truly powerful medicines, and yet have no adverse side effects! He's so good to us! :-) 
If you're dealing with blood sugar issues, I encourage you to try Young Living's Grapefruit essential oil!  ORDER HERE! I am already blown away by its effectiveness! Do you use essential oils? What do you use them for?
Visit Brandy at Living Water, Health and Wellness for great health and wellness tips.