Cypress Essential Oil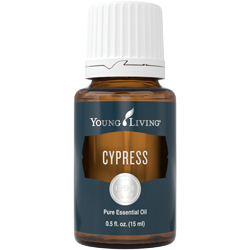 Cypress essential oil helps to improve circulation and strengthens blood capillaries.
Properties of Cypress Oil:
Cypress oil is anti-bacterial, anti-infectious, antimicrobial, mucolytic, antiseptic, diuretic, antispasmodic, lymphatic and  helps with fluid retention.
Historical uses of Cypress Oil:
It was used anciently for its benefits on the urinary system. The Chinese valued cypress for its benefits to the liver and respiratory system. It has been used for diabetes, circulatory disorders and cancer.
Other benefits of Cypress oil:
It eases the feeling of loss and creates a sense of security and grounding. It also helps heal emotional trauma, soothes anger and helps life flow better. It can help soothe irritating coughs and minor chest discomfort. Cypress essential oil can also help with arthritis, bronchitis, cramps, hemorrhoids, insomnia, intestinal parasites, menopausal problems, menstrual pain, , pleurisy, pulmonary tuberculosis, rheumatism, spasms, varicose veins and water retention. Cypress oil may also be beneficial for asthma, reducing cellulite, colds, strengthening connective tissue, spasmodic coughs, diarrhea, energy, fever, gallbladder, bleeding gums, hemorrhaging, laryngitis, liver disorders, lung circulation, muscular cramps, nervous tension, nose bleeds, ovarian cysts, skin care, scar tissue, whooping cough and wounds.
Application:
Apply to vitaflex point of the feet (look for a diagram of the foot to see where organs are located) and directly on area of concern.
Gary Young's post on Cypress:
The oil of cypress originated from a tree so durable that the doors of St. Peter's Cathedral in Rome are made from it and show no signs of decay even after 1,200 years. The mighty cypress groves of Lebanon were described in the Apocryphal book of Ecclesiastes as trees which "groweth up to the clouds." Some Bible scholars believe that cypress may be the gopher wood used to build Noah's ark. Cypress was historically used to support the circulatory system and is mentioned in Isaiah 44:14: "He heweth him down cedars, and taketh the cypress and the oak, which he strengtheneth for himself among the trees of the forest." Traditional texts refer to cypress as a decongestant for the veins and the lymphatic system, and as a support for the nervous system and pancreas. However, modern research has yet to verify these properties. Cypress may have also been used in ancient times for the treatment of pulmonary complaints, as well as other conditions, although these uses are not yet confirmed.
There are several Scripture References of Cypress in the Holy Bible: Isaiah 44:14; Gen. 6:14, Isaiah 41:19, Kings 9:11, song of Solomon 1:17
Order Cypress oil here.  I recommend becoming a YL wholesale distributor member. Why pay retail, as a customer when you can get wholesale pricing! Buy what you want, when you want.  No obligation to buy or sell, ever!
Any information shared here is not meant to diagnose, treat, cure, or prevent any disease, and is intended for educational purposes only.