Australian Blue Essential Oil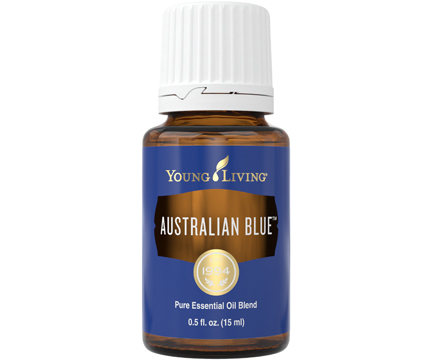 Have you ever heard of this oil or smelled it? I hadn't either! I was introduced to this oil from a woman whom I was giving a Raindrop Massage Technique too.  She recently was diagnosed with Shingles, and this oil was the top oil listed for it.  She had purchased it for something in the past, and only used it a few times. Since she had it, we definitely wanted to add it into the Raindrop to further enhance her healing. I am thrilled to have discovered this oil.  I could have held the bottle and smelled it forever.
Australian Blue is an essential oil blend that contains 5 therapeutic grade oils. This exotic essential oil blend has sweet, earthy undertones responsible for its calming and stabilizing effects, while simultaneously inspiring and uplifting. This essential oil is blue as a result of a catalytic reaction between the bark and the hardwood of the blue cypress tree. Blue Cypress is an oil that is not only in Australian Blue, but is also in Young Living's Brain Power and Highest Potential.
The 5 oils in Australian Blue are:
Ylang Ylang Essential Oil  has antidepressant, antispasmodic and sedative properties.. It balances the male and female energies of the body. It restores confidence and equilibrium.

Cedarwood Essential Oil has anti-infectious, anti-fungal and sedative properties. It stimulates the pineal gland which releases melatonin. It is calming and purifying. It is very grounding emotionally.

White Fir Essential Oil  has analgesic, antiseptic, sedative and tonic properties. It is very grounding and anchoring. It relaxes the body, while stimulating the mind. It reduces the symptoms of arthritis, rheumatism, and sinusitis.

Blue Cypress Essential Oil  has strong anti-inflammatory and antiviral compounds, acts as an insect repellent, and has sedative properties. It is a stimulant to the amygdala, pineal gland, pituitary gland and hypothalamus.
Blue Tansy Essential Oil is anti-inflammatory and helps cleanse the liver and lymphatic system. Emotionally, it combats anger and negative emotions and promotes a feeling of self-control.
Australian Blue Uses:
 Anger, canker sores, chicken pox, colds, cold sores, eczema/dermatitis, first degree burns, herpes simplex type 1, herpes zoster, prostate inflammation and congestion, shingles, shock, sunburn, stress, tachycardia (rapid heartbeat), trauma and viral infections.
How do I use Australian Blue?
With Young Living Essential Oils, you can apply most oils NEAT (undiluted), however, feel free to always use a carrier oil. Apply several drops (2-4) on ears, throat, back of neck, wrists or temples. Apply to vitaflex points on the feet, directly inhale or diffuse in a diffuser.
To order Australian Blue, click HERE.  It is always best to order as a WHOLESALE member! Don't pay retail! With Young Living, you can have a membership and buy what you want, when you want. No obligation to buy or sell, ever! Simply enjoy wholesale prices! Join our team and we will help guide and support you, no worries!
*Possible skin sensitivity (so dilution may be required). As always, if pregnant or under a doctor's care, consult your physician.  
{ 0 comments }